Systematic review

Open Access
Using virtual reality in criminological research
Crime Science
An Interdisciplinary Journal
2014
3:10
Received: 26 June 2014
Accepted: 11 September 2014
Published: 11 November 2014
Abstract
Since the pioneering early studies of the 1990s hinted at its promise as a research method, virtual reality (VR) technology has increasingly been used by social scientists. Given recent developments that have greatly enhanced realism, reduced costs, and increased possibilities for application, VR seems well on its way to become an established research tool in the social sciences. However, as with other methodological innovations, the field of criminology has been slow to catch on. To address this gap, this article explores the potential of VR as a tool for crime research. It provides readers with a brief and non-technical description of VR and its main elements and reviews several applications of VR in social scientific research that are potentially relevant for criminologists. By way of illustration, we identify and discuss in more detail different areas in which we think the field of criminology can particularly benefit from VR and offer suggestions for research. Some of the equipment available on the consumer market is also reviewed. In conjunction, the different sections should equip readers interested in applying VR in their own research with a fundamental understanding of what it entails and how it can be applied.
Keywords
Virtual realityVirtual environmentsCrimeDelinquencyCrime researchInnovative methods
Introduction: what is virtual reality?
Whether we realize it or not, most of us are familiar with and have used virtual environments at some point, and perhaps more often than we realize. Think, for example, of a virtual tour you took, a gaming device such as the Wii, Playstation or Xbox you once (or frequently) played with, online platforms such as World of Warcraft or Second Life you have wandered around in, a `flight' you took in a simulator in a game arcade, or the time you used the IKEA website to design your new kitchen. These different examples hint at the range, level of complexity, and diversity of what can be captured under the term `virtual environment'.
The term virtual reality (VR) is generally used to refer to an artificial or computer-generated, three-dimensional representation of reality, which is experienced through the senses and which is interactive, i.e., in which the user's actions (co-)determine the course of the interaction. A virtual environment (VE) is a digital space in which a user's movements are tracked and his or her surroundings rendered, that is digitally recomposed and displayed back to the user in accordance with those movements (Fox et al. [2009]). Think, for example, of a game controller or joystick that tracks the user's motions in the real world and moves the player's character forward on the computer screen, rendering a new environment (Fox et al., [2009]). Through a computer-generated image or animated character, an avatar, a user can move around the virtual world and pick up and interact with virtual objects in the going (Ticknor & Tillinghast, [2011]).aInteractivity is key in this respect as, much more than is the case with traditional media, in a virtual environment the user has a role within the medium, and his/her actions influences how the experience or scenario unfolds in real-time (Fox et al., [2009]).
Another important element of VR is its level of
immersion
. In case of immersive virtual reality (IVR), a user is perceptually surrounded by the virtual environment and his/her awareness of the real world is minimized (Loomis et al. [
1999
]; Ticknor & Tillinghast, [
2011
]). As real world sensory input is blocked, this can generate the impression that one has actually stepped inside the virtual environment and create an illusion of involvement with the artificial world (Witmer & Singer, [
1998
]). Immersive virtual reality is typically achieved by having participants wear a
head-mounted display
(HMD) (see Figure
1
). A HMD is a headset or helmet that replaces a desktop monitor in the sense that it contains displays (and possibly earphones) attached to it that provide a wide, stereoscopic view of the computer-generated environment (Fox et al., [
2009
]). Special trackers provide the coordinates and rotations of the user's location in the virtual environment, which, in turn, are communicated to the rendering computer, which feeds the appropriate video back to the participant through the HMD. Software and (optionally) specialized hardware can add spatialized sound such that users hear sounds as emanating from the surrounding 3-dimensional auditory space (Loomis et al., [
1999
]:558).
Presence
, finally, refers to a subjective sense of "being there", i.e., in the place depicted by the virtual reality rather than the physical place where the user's body is actually located and the tendency to respond to the virtual events and environment as if they were real (Slater, [
2004
]; Slater et al., [
2006
]). Presence is related to immersion in the sense that a greater level of immersion is also likely to generate a greater sense of presence (Ticknor & Tillinghast, [
2011
]). However, whereas immersion refers to the actual configuration of the interface and VR setup, presence refers to a psychological state that reflects emotional, physical and cognitive engagement with the VE.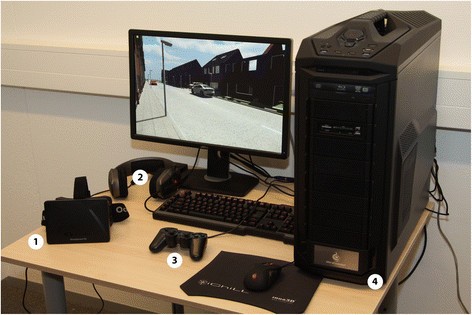 Conclusion
In this article, we have intended to provide criminologists with a fundamental understanding of VR and how it can be applied in research to advance our understanding of crime. The studies we discussed demonstrate that the manipulation of different characteristics of a VE can have significant impact on the user, both psychologically and physiologically, which makes VEs very suitable for research aiming to better understand criminal behavior. Not only do these features of VEs have immediate effects within the environment, but effects have been shown to also carry over into the real world in different behavioral domains, implying that VEs also have the potential to become powerful tools in the applied realm (Fox et al., [2009]:100) and for changing delinquent behavior. The application of VR in the context of offender rehabilitation is an example that readily comes to mind in this respect.
All things considered, we think that VR has tremendous potential for crime research and that we are currently at a point at which it can be applied also by those who are not extensively schooled in computer technology and who do not have extensive programming skills. Furthermore, recent advances in the technology have made more equipment available at the consumer level, which has also greatly expanded the possibilities for using it in criminological research. Moreover, whereas immersive VR still requires specialized equipment, this is not the case for non-immersive VEs as most people nowadays have at least one and probably more devices to display them on such as notebooks, tablets and smartphones. This means that this type of VE has much potential to collect data also at remote or relatively inaccessible places. Additionally, both online VEs, such as Second Life, and offline VEs can generate vast amounts of standardized statistical data in a nonintrusive manner that can be used for analysis (Bainbridge, [2007]; Fox et al., [2009]). Scripts for IVR can be written to automatically record the user's movements, gaze and gestures which do away with the need to have coders review a videotape to code behavior.
We think that certain recent developments such as the acquisition of Oculus by Facebookq show that the momentum of more generally applied VR is increasing. Already the gaming industry is scrambling to include 3D and VR options in their next video game titlesr. The effect of this will be, something that can be observed already at present, that hardware will become more affordable, of higher quality, and more userfriendly. Head -mounted displays will become lighter, easier to wear, wireless, and have high (HD) to very high (4kHD) resolution so that the equipment will no longer be a threat to VE experience.s At the same time, end-user software will start to incorporate 3D functionality, starting with video gamest. We believe that the total effect of these developments will be that 3D VR technology will become ubiquitous and therefore also more easily available for research purposes. Because more applications will have 3D and VR capabilities, it will become easier for researchers to create VEs for their own research without needing special equipment or knowledge.
As was argued in this article, VR provides not only enhanced possibilities for improving existing methods of data collection, such as the vignettes used by deterrence and criminal decision making researchers, it also provides possibilities for the study of phenomena that are for practical, financial or ethical reasons impossible to study using other methods, such as burglary at the moment it takes place or situations involving large crowds. Additionally, the experimental control–mundane realism tradeoff, a main methodological problem in experimental research, can be overcome by VR technology as it combines high degrees of realism with high experimental control (Blascovich et al., [2002]:103). Finally, on a more applied note, we wholeheartedly agree with Ticknor and Tillinghast ([2011]:4) who argue that "[w]ith dwindling budgets and swelling jail and prison populations, the criminal justice system stands to benefit from using technology that has provided positive outcomes in many other fields (…). By using virtual reality, researchers and practioners are able to create diverse environments that are safe, cost-efficient, and easy to control. The criminal justice system can incorporate this technology, along with conventional methods, in order to improve in the areas of research, training, and rehabilitation." We sincerely hope the criminological community will capitalize on these possibilities and start applying VR in its research agendas.
Recommended reading
Blascovich et al. ([2002]). Immersive virtual environment technology as a methodological tool for social psychology. Psychological Inquiry, 13, 103– 124. Explains how IVR can solve different problems of experimental (social psychological) research: the experimental control–mundane realism trade-off, lack of replication, and unrepresentative sampling.
Burdea, G. C. & Coiffet, Ph. ([2003]). Virtual Reality Technology. Hoboken, NJ: Wiley Interscience. Provides an (technical) overview of VR technology. It is designed as a textbook on the subject of virtual reality and provides coverage of the technology—where it originated, how it has evolved, and where it is going.
Fox, J, Arena, D, & Bailenson, JN. ([2009]). Virtual Reality: A survival guide for the social scientist. Journal of Media Psychology, 21, 95– 113. Provide nontechnical reader with a fundamental understanding of the components of VR and the role VR has played in social science. Reviews the literature and provides a comprehensive outline of social scientific studies using VR technologies.
Ticknor, B, & Tillinghast, S ([2011]). Virtual reality and the criminal justice system: New possibilities for research, training and rehabilitation. Journal of Virtual Worlds Research, 4, 3–44. Explains how criminal justice systems can benefit from VR by improving research methodologies, providing benefits to practitioners and offenders, and improving rehabilitation efforts.
http://www.vrs.org.uk Online resource with information about virtual reality and its components (e.g., apps, immersion, interactivity, therapies using VR, history, etc.).
Endnotes
aAvatars are controlled by a human user, whereas agents are controlled by an algorithm (Fox et al., [2009]; see also the contribution of Gerritsen in this special issue for more information on agents and simulation studies and the 2008 special issue on Simulated Experiments in Criminology and Criminal Justice of the Journal of Experimental Criminology). When a virtual human is controlled by an algorithm, it is referred to as an embodied agent (Fox et al., [2009]). This distinction is worth noting here because people tend to react differently when they believe they are interacting with an avatar; their physiological responses and behaviors tend to be more similar to how they would interact with a real person (Fox et al., [2009]).
bAn alternative IVR set-up involves the placing of multiple large projection screens (and loudspeakers) around and below a user, generally referred to as a CAVE or Computer Assisted Virtual Environments (Loomis et al., [1999]).
cVignettes or scenarios are short, generally written, descriptions of hypothetical situations. Participants are asked to read the vignette or scenario, to imagine him-/herself to be in the described situation and subsequently answer a number of questions pertaining to it
dCurrently, the work by Nee and colleagues is being followed up in the Virtual Burglary Project, a collaboration between CRIME Lab at the Netherlands Institute of Crime and Law Enforcement (NSCR), the Network Institute -Tech Labs at the VU University in Amsterdam, and the the Faculty of Psychology of the University of Portsmouth. In this project, an entire virtual residential neighbourhood is being developed in which houses can be burglarized. This more sophisticated environment can be used to study a large variety of research questions, such as considerations of target choice, deterrence, guardianship and disorder but also more fundamental questions, regarding how offender characteristics such as self-control and sensation seeking influence how offenders actually go about committing their crime and how the criminal event exactly unfolds. Furthermore, perceptions of risk can be measured on a continuous basis by measuring heart rates and galvanic skin responses during the virtual burglary event.
h http://www.autodesk.com/products/autodesk-3ds-max/overview
i http://www.autodesk.com/products/autodesk-maya/overview
k http://www.adobe.com/products/photoshop.html
n http://www.vrealities.com/products/data-gloves/dg5-vhand-glove-3-0
p http://ap.isr.uc.pt/?w=project_information&ID=71
q https://www.facebook.com/zuck/posts/10101319050523971
rTracking systems will remain somewhat of a problem because the required full immersion means full-body tracking and there is little indication that easy to use full-body tracking technology is around the corner. Systems like the new XBox Kinect do offer a lot of flexibility and advanced tracking possibilities, and could offer tracking solutions that are usable in research. Another partial solution to tracking are treadmill systems that allow users to move inside the VE whilst remaining in one place in the physical world. These are also seeing some new developments towards affordable and usable systems that can be used in research like the Virtuix Omni system.
Authors' Affiliations
(1)
Netherlands Institute for the Study Crime and Law Enforcement, Amsterdam, The Netherlands
(2)
The Network Institute, VU University Amsterdam, Amsterdam, The Netherlands
(3)
Department of Psychology, University of Bern, Bern, Switzerland
Copyright
© van Gelder et al.; licensee Springer. 2014
This article is published under license to BioMed Central Ltd. This is an Open Access article distributed under the terms of the Creative Commons Attribution License (http://creativecommons.org/licenses/by/4.0), which permits unrestricted use, distribution, and reproduction in any medium, provided the original work is properly credited.